After more than a year of meeting virtually, the ALA board met in person on June 5-6 in Kalamazoo and Garezers, Michigan. Latvian ambassador to the U.S. Māris Selga also participated both days. The board reported on their activities of the past quarter and their plans for the rest of the year, including the 70th congress, which is tentatively planned for October in Chicago.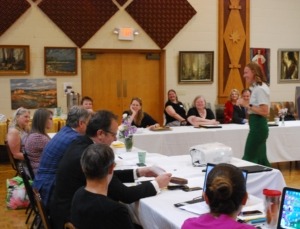 Marissa and Bill LaDitka from Intersect made a presentation to the board on plans for the new Kalamazoo Latvian church. The ALA board made a donation to this cause.
On Saturday evening the ALA board met with the local Latvian community for a wine tasting and mingling event.
On Sunday, June 6, the ALA board met with several representatives of the Garezers board. Everyone posed for a group photo at the Garezers monument to commemorate June 14.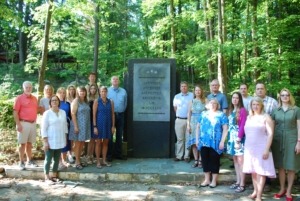 Although the pandemic has held back a lot of organizations and individuals from full operations, ALA work has been continuing in full force, not only with virtual events, but also through critical support and cooperation with Latvian schools, camps, and political activism to benefit Latvia and the Baltic countries!
(Photos: Baiba Dolinsky.)