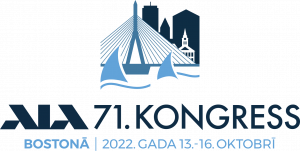 The ALA Congress is the annual meeting of representatives of more than 100 Latvian organizations in the U.S., as well as individual members, supporters, and guests.
At the meeting delegates will discuss common goals and decide on ALA's operational priorities in the coming year. The first event of the Congress will be an informal community event on Thursday, October 13, at the Boston Latvian community center. The opening ceremony will take place at 9am on Friday, October 14, at the Boston Marriott Newton hotel. The program will feature various lectures, debates, and working groups focused on political events in Latvia and the world, cooperation between the U.S. and Latvia, and the future of the Latvian community in the U.S. On Friday evening, Congress participants will have the opportunity to network and discuss the day's events with appetizers and drinks at one of Boston's most historic taverns. Then they will have the opportunity to break off and continue with dinner or drinks in small groups or to explore Boston for the rest of the evening. On Saturday evening, the delegates will celebrate at a dinner and ball/dance at the hotel. The events of the Congress end on Sunday, October 16 at 12PM, with voting on the resolutions for the next operating year.
Hotel Reservations:
The main hotel, where the Congress is taking place – Boston Marriott Newton – is now sold out. ALA also has a "courtesy block" with rooms for $209 at Embassy Suites Waltham, so if you have interest in staying here with the overflow group, email projects@alausa.org. 
Not invited/elected as a delegate representing a member organization, but still want to participate in the ALA Congress?
If you are an ALA member, you can register as an Individual Member Delegate ("Atsevišķo biedru delegāts"), using the same registration form, or participate as a guest without voting rights, simply by paying for individual events below (no registration form is required for guests, please just make note of the guest name when making a payment.)
Email the Executive Director, Marisa Gudrais, with any questions regarding registration or payments – projects@alausa.org.