At the ALA Congress earlier this year, 2019 was proclaimed the "Sveika, Latvija! Year" – we have now prolonged this project through the 2019/2020 school year.
The first step in bolstering and celebrating our educational programs this year will be to replenish the ALA educational trip fund, which for years has supported ALA trip participants who have attended Latvian school or completed Latvian language studies to a certain level.
Please consider donating to the ALA educational trip fund!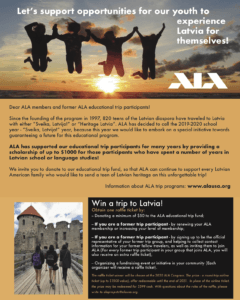 Please complete and send the donation card to ALA by mail, or donate electronically here: https://alausa.org/en/participate/donate-to-ala/