As the ALA Director of Cultural Affairs and GVV's art history teacher, Līga Ejupe, reports, the 56th summer of Garezers Summer High School (GVV) commenced on July 6, 11AM. Studies this summer will take place virtually. 115 students will be participating this year. ALA congratulates Sandra Sīpola and her team, and also thanks our own Director of Education Elisa Freimane for coordination with camps and schools this summer.
Virtual studies will be led by teachers from Los Angeles, Chicago, Lansing, Rīga, Sigulda, Milwaukee, and other cities.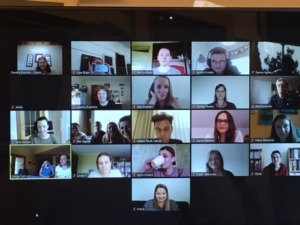 Photo by the flag: GVV 2018 graduates (from the left) – Vilis Sīmanis, Dārija Baginska, Sarma Ejupe, Lūkas Grīviņš.